Update {Video} New Evidence Released After Riots & Protest #JusticeForMikeBrown Killed By St. Louis Cops
=============================Update as of 08/15/2014
Ferguson Police Chief Thomas Jackson released several police reports and documents during a news conference where he also identified the officer involved as Darren Wilson, who has been on administrative leave since he shot 18-year-old Michael Brown on Aug. 9.
The Ferguson Police Department released documents alleging the teen was killed after a robbery in which he was suspected of stealing a $48.99 box of cigars.
Brown and his friend, Dorian Johnson, were suspected of taking a box of cigars from a convenience store in Ferguson that morning, according to police reports. Jackson said Wilson went to the area after a 911 call reporting a "strong-arm" robbery just before noon. He said a dispatcher gave a description of the robbery suspect, and Wilson, who had been assisting on another call, was sent to investigate.
Wilson, a six-year veteran of the police department, encountered Brown just after 12:01 p.m., with a second officer arriving three minutes later, Jackson said.
Brown's uncle, Bernard Ewing, questioned whether Wilson really believed Brown was a suspect. He noted Johnson's account that the officer told the two young men to get out of the street and onto the sidewalk, and that Brown had his hands up when he was shot.
"If he's a robbery suspect, they would have had the lights on," Ewing said. "If you rob somebody, you would tell them, 'Get on the ground' or something, not, 'Get off the sidewalk.'"
"It still doesn't justify shooting him when he puts his hands up," he added. "You still don't shoot him in the face."
===============================================
Multiple witnesses claim a Missouri police officer shot and killed Mike Brown, unarmed 18-year-old, in Ferguson, Missouri, which is part of St. Louis County. While the officer has been place on administrative leave, the community is in an uproar over the incident. The shooting reportedly occurred on Saturday, August 9 near the Canfield Green Apartments.
Dorian Johnson tells News 4 he was walking with Brown when the officer confronted them and drew his weapon.
"He (the officer) shot again and once my friend felt that shot, he turned around and put his hands in the air," said Dorian Johnson, a friend Brown's. "He started to get down and the officer still approached with his weapon drawn and fired several more shots."
St. Louis County NAACP President Esther Haywood told News 4 that Brown was shot once by the officer and then an additional nine times as he lie in the street. Police have not confirmed that account.
"He was a good kid. He didn't live around here," said Desuirea Harris, grandmother of the victim. "He came to visit me and they did that to him for no reason."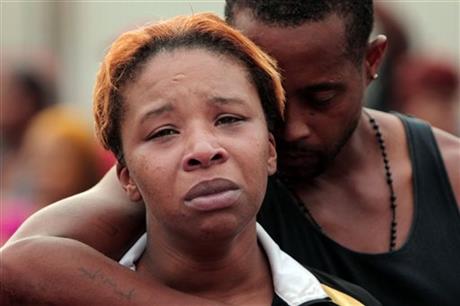 A large angry crowd grew as new of the incident travelled, and additional police were called in.
Ferguson Police called for assistance from St. Louis County and nearby municipalities as large, emotional crowds gathered at the scene. In all more than 100 officers from 15 departments responded to the area. Tactical teams in riot gear were also called in. At one point, a dumpster was set on fire in protest of the shooting. A section of West Florissant Avenue near the scene was closed for a time on Saturday evening.
Through the afternoon and evening some among the crowds were yelling profanities at police demanding justice. At one point gun shots rang out in the area as investigators gathered evidence. That prompted numerous police canine units to move in and move the crowds back. At least one trash dumpster was set on fire.
====================
Credit Source: HipHopWired